Mourinho's tactics were widely condemned after Saturday's drab scoreless draw at Liverpool and things hardly improved in Lisbon, where United again held firm at the back to secure a 1-0 win against Benfica. It was the ninth clean sheet in 13 matches and the Reds boss cannot understand the negativity surrounding his style.
In your opinion, should Jose Mourinho be criticized by 'parking the bus'?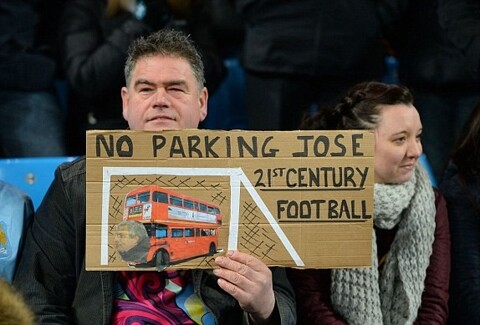 Come to join us! Speak out what's on your mind, show us your football-related knowledge and be as convincing as possible. Let's see who's gonna be the All Football expert!
See comment below:
10-20 14:33

As long as we get points there is nothing wrong with bus parking kind of play especially if not all 3 points are dropped. Sometimes its important to hold on to that one or 3 points than marching off the pitch empty handed after 90+ minutes

I love Jose's masterplan.

#Park the bus where necessary even get a convoy of them if need arises

10-20 14:38

With a few exceptions, beautiful football doesn't always translate to trophies. The most entertaining team in history is a title that will always be debated but no debates about trophies. The idealist, like Guadiola, likes to play beautiful football even if it doesn't bring trophies; the realist, like Mourinho, wants to win trophies even with boring football. One thing is very certain: people don't become legendary coaches by playing beautiful football, they become legends by winning trophies. Mourinho is a practical man, and that is something commendable.

10-20 14:41

Well,I do not know if Mourinho should be criticized, this is just his style. I personaly do not like his playing style,bus playing formation because that is killing the beauty of the game! It is not easy to play with the team who doesn't let game to be fully dynamic . When are playing two teams with diferent style,one bus playing tactics and one strictly offensive style, then bus team is suffocstes the offensive team game,the other team must just wait for the opponent's mistakes and try with counter attacks to score! Sometimes it works, sometimes not but this playing style is ruin the beauty of the game!

10-20 15:20

Well,the term "parking the bus",simply means making all the players on a team play defensively, usually when the team is intending to draw the game or defending a narrow margin.And funny enough, the term was coined by the same person in our topic of discussion,no other person, but the "special one",Jose mourihno.He came up with it when Chelsea,sometime in the past,had a game with the Spurs,back in 2004. Parking the bus isn't a new strategy; it's one that Inter Milan and Chelsea both successfully employed in defeating Barcelona and eventually claiming the Champions League title.



It's an ultra-defensive strategy, involving defending with nearly your entire team. You allow the other team possession, in exchange for occupying almost all available space in your defensive third, keeping the other team from creating any real chances at goal.

Then you counter as fast as you possibly can. Generally, you counter using a fast winger or a target forward, like Messi or Ronaldo, without committing too many men forward.

'Parking the bus' isn't generally a recipe for a winning team, since you create very few chances for yourself, while allowing your opponent to continue trying to score.

Even if all they get is five or six half-chances, that's better than your own one or two chances. It usually forces teams to take outside shots or simply lob crosses into the box, chances that don't carry a good conversion rate, but if one goal is conceded,the strategy is then ineffective.

And in the case of the special one using this strategy, it is indeed right to criticize him for adopting it,because it was simply not called for.Manchester united,with the signings of sublime talents over the recent years,have got what it takes to go on the offensive. Though injuries may occur every now and then,the reds don't have it in their nature to be that defensive, unless when it is seriously called for,like in a scenario where you are playing against Fc Barcelona, who are famously known for their tiki taka style. And in this case,Liverpool can, in no way,be compared to the Catalan giants.And the idea of parking the bus,is not an idea you implement when you haven't scored a single goal,or you don't even have a shot on target.Its a strategy that you put into play when you are probably one or two goals up against the opponent.Sir Alex Ferguson, was indeed very successful at Old Trafford because he knew the importance of not only fluid football,but also going on the offensive.

As if that wasn't enough, the same technique was used in the clash against Benfica,who,to be frank,Manutd got lucky to hold unto their one goal win against them.Benfica,to all and sundry,is a club in European football that can turn even a club's largest dream to a nightmare. Manchester united, in all due respect, is a club that is simply too big to be parking the bus.If Sir Ferguson, during the time of berbatov,Ronaldo and co,was well,taking time to park the bus,the true potential of the likes of scholes,Ferdinand and the rest would not have become reality.Scholes,though he took care of things at the back,scored some outstanding goals during his time.and he made a great name for himself because of it.

And in European football today,even if one was playing against the great Fc Barcelona with this strategy, the catalian giants have now,over the years,developed means of well,destroying the bus,with their fast paced players,sublime through passes and of course, the formidable scoring prowess of the magician himself. Parking the bus,in the long run,will be very catastrophic for the giants at old Trafford, and Mourihno,if truly he is still the special one,must come up with fresh ideas that will make the Red devils,remain dominant,not only in England,but in the entire Europe as well.

10-20 14:13

There are 2 types of people:

1.Who want result.

2.Who want result but good performance is more important.

If you are of the of the first type Mourinho is for you.

If you belong to the latter group then Mourinho is a nightmare.

My opinion is that unless your team is tired or it's a tight schedule; you should try and play fluid football.

Like, Liverpool are very good, but they are on the weaker side if compared to Real. But, if they face any such team, I assure you would witness an entertaining football.