The Italian icon won the Champions League twice, the World Cup and Serie A on six occasions during a trophy laden career that saw him represent the likes of Inter Milan, Juventus and AC Milan.
He made a late cameo appearance in New York City's game against Columbus Crew on Sunday evening, the night before he announced the end of his playing career.
In a statement published on his Twitter account, Pirlo wrote: 'Last match in MLS. As my time in NYFC comes to an end I would like to say a few words.
'I want to thank everybody for the kindness and support they have shown me in this incredible city. Thank you to the amazing supporters, thank you to the coaching staff and everybody that work behind the scene, thank you to my teammates (sic).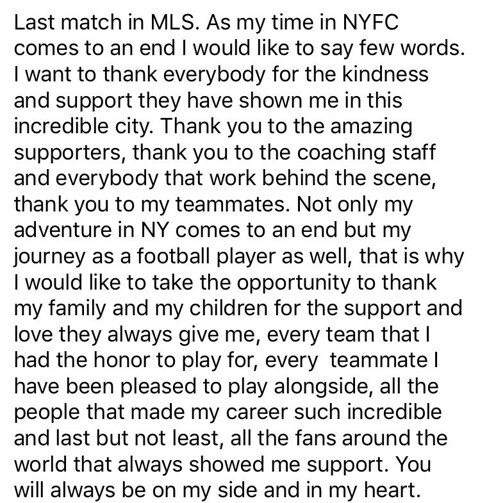 'Not only my adventure in NY comes to an end, but my journey as a football player as well.
'That is why I would like to take the opportunity to thank my family and my children for the support and love they always give me, every team that I had the honour to play for, every teammate I have been pleased to play alongside, all the people that made my career such incredible and last but not least, all the fans around the world that always showed me support.
'You will always be on my side and in my heart.'
Melody of Football: Long, Long Way to Go - To Andrea Pirlo